Main content starts here, tab to start navigating
Cooking with Amar'e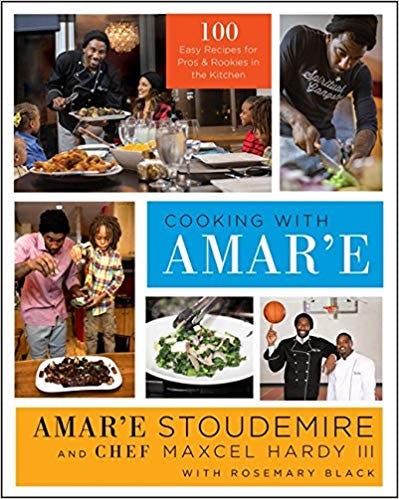 An information-packed cooking guide filled with tempting recipes, co-written by New York Knicks' power forward Amar'e Stoudemire, and his charismatic, world-class chef Maxcel Hardy.
New York Knicks captain Amar'e Stoudemire may be on fire when he's on the court, but the nearly seven-foot-tall hoops star didn't know the first thing about lighting a fire. When his personal chef Maxcel Hardy began giving him informal cooking lessons, the six-time NBA All-Star learned to become a comfortable, experienced cook able to whip up tasty, healthy dishes for his family.
Cooking with Amar'e is an engaging chronicle of their informal sessions—a unique, collaborative cookbook featuring stories, recipes, tips, advice, and instructions on cooking techniques, equipment, shopping, party planning, and preparation for home cooks of all levels. Comprehensive and convenient, it allows beginners and practiced cooks to hone their kitchen skills and master dishes at their own pace.
Here are more than 100 healthy recipes the whole family can enjoy, that blend French, Southern, Asian, and Caribbean traditions and flavors, and use ingredients from the local grocery store. In addition to these delicious dishes—some created by Hardy for his many celebrity clients and others based on the traditional Southern dishes both men enjoyed growing up—this straightforward guide is filled with savory personal anecdotes, from humorous stories of working together as Amar'e learned to cook, to Amar'e and Maxcel's personal reminiscences.
Designed in an easy-to-follow and engaging format, illustrated with 75-100 full color photos, this practical and fun cookbook is sure to become a trusted favorite.
The Marley Coffee Cookbook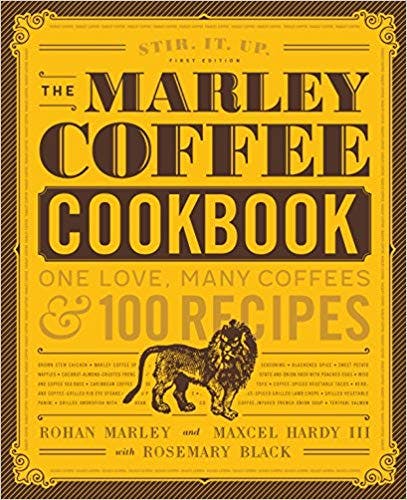 From Bob Marley's son, Rohan Marley, and expert chef, Maxcel Hardy, comes The Marley Coffee Cookbook. This collection of recipes infuses incredible recipes with coffee for something truly unique.

Rohan Marley kicks off each chapter of The Marley Coffee Cookbook with anecdotes about growing up as the son of legendary musician Bob Marley, who to this day is revered by music lovers young and old. The chapter One Love, for instance, begins: "One Love is one of my father's biggest songs, and I wanted the coffee that I named One Love not just to be a standout single origin coffee, but to really resonate with people."
Chef Maxcel Hardy's flawless recipes and expert guidance on the best way to infuse a dish with coffee flavor make this book a very special addition to any cookbook collection. Hardy speaks to the importance of choosing a particular coffee to harmonize with certain foods, and he shows how easy it is to use coffee in a way that it brings out the best in everything from savory dishes to sweet treats.
There's a strong coffee connection for each dish, whether it is infused with a mocha theme or it rocks an espresso flavor. These are dishes you won't find anywhere else, to name a few:
Sweet potato waffles with a pecan coffee syrup
Grilled salmon with a coffee maple, and ginger glaze
Fried plantains with coffee sugar
Coffee spice blend-marinated lamb ribs with guava BBQ sauce
Grab your copy of The Marley Coffee Cookbook today, and try out these incredible foods that truly carry on the soul of Bob Marley.